Thu 26 Mar 2009
Seen from a low-flying airplane, the northwestern 40 percent of Marin County is a bit different from what one sees driving on public roads, as I was reminded this week.
Sally Gale with her husband Mike raise grass-fed beef in Chileno Valley, and for Christmas 2007, she gave him a gift certificate for one-hour plane ride. Mike (above) finally had a chance to take the flight this week, and he invited me along.
At 2 p.m. Tuesday, Mike and I showed up in the Aeroventure office at the Petaluma Airport where pilot Tom Dezendorf loaded us into a Cessna that was tied down out front. As Mike and I would later learn, Tom, who mostly works as a flight instructor these days, previously was an Emmy-winning production manager for NBC.
As befits a flight instructor, Tom's takeoff was as smooth as his camerawork, and if I hadn't been looking out the window I'd have thought we were still on the runway.
Once we were airborne, Tom headed out to Chileno Valley so we could shoot some photos of Mike's and Sally's ranch. Their stately ranch house, which has long been in Sally's family, had fallen into such disrepair it was uninhabitable before they spent four years (1994-98) restoring it.
From Chileno Valley, Tom at my request headed out to Drakes Estero, crossing Tomales Bay en route. I wanted to photograph this tribal region of the Point Reyes National Seashore where there are continual skirmishes between a Taliban warlord, Olema bin Laden, and the Drakes Bay people.
Bin Laden has been trying to end century-old oyster growing at the estero by imposing a pitiless environmental sharia on the region. His many cruelties by now have raised concern among neighboring peoples, as well as a number of county, state, and federal officials.
New readers unfamiliar with the injustices that prompt this digression into satire can find them in previous postings about Drakes Bay Oyster Company. (N.B. I'm speaking only for myself here and not for Mike.)
As we approached the estero, stockponds like steps descended hillsides in front of us almost to the shoreline.
Northwest Marin contains scores of stockponds the public never sees because they're hidden in remote canyons or — surprisingly enough — near the tops of ridges. As we flew over some of the higher ones, I wondered what their sources of water are.
On the other hand, Petaluma residents are more likely to have swimming pools hidden out of public view, as we could see while flying to and from the airport. I guess the difference says something about what goes on where.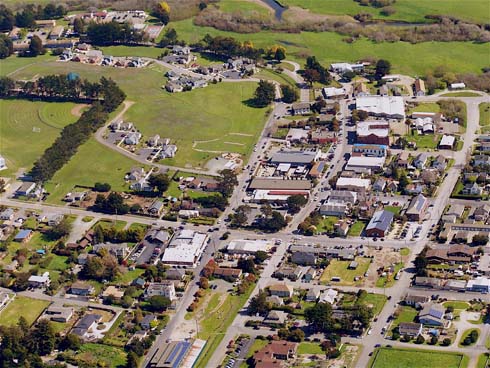 On our way back to Petaluma, we flew over Point Reyes Station to shoot a few photos. There were no swimming pools to be seen.
That's the Coast Guard housing complex at the upper left. Just below it are the houses EAH sold at market rates, and below them are rows of trees around a corner of the playing field at West Marin School. To the right of the trees is the EAH affordable housing project.
The Dance Palace is the blue building at lower right. Above it (with a brown roof) is the Arthur Disterheft Public Safety Building, which houses the county fire station and sheriff's substation. Winding through the upper right of the photo is Papermill/Lagunitas Creek. In the center of it all is Point Reyes Station's commercial district, which mostly lines the town's main street, a three-block-long jog in Highway 1.
The term Northwest Marin is sometimes used to describe the Tomales, Dillon Beach, Fallon area, and once in a great while, it is used to refer to all of West Marin (including the San Geronimo Valley) from Olema north.
City-Data.com describes Northwest Marin (see its map below) as consisting of 322 square miles with a population as of July 2007 of 9,366. The median household income in Northwest Marin a year and a half ago was $62,106 compared with $59,948 for California as a whole, City-Data.com estimated.
But that small difference doesn't begin to compensate for the horrifically high cost of living here. On a cost-of-living scale that considers 100 to be average for communities nationwide, Northwest Marin scores a frightening 191.7, which City-Data.com not surprisingly calls "very high."
Among Northwest Marin residents 25 and older, 93.1 percent have high school degrees, 46.7 percent have college degrees, and 18.5 percent have graduate or professional degrees.
The "most common industries for males" working in West Marin, City-Data.com says, are: "construction, 17 percent; professional, scientific, and technical services, 10 percent; agriculture, forestry, fishing and hunting, 10 percent; educational services, 8 percent; accommodation and food services, 7 percent; health care, 5 percent; arts, entertainment, and recreation, 5 percent."
Listed as the "most common industries for females" are: "educational services, 12 percent; health care, 11 percent; professional, scientific, and technical services, 9 percent; accommodation and food services, 7 percent; arts, entertainment, and recreation, 7 percent; religious, grantmaking, civic, professional, and similar organizations, 6 percent; public administration, 5 percent."
The average household size in Northwest Marin is 2.4 people, lower than the statewide average of 2.9, and far fewer households in Northwest Marin consist of families (46.2 percent) than is typical statewide (68.9 percent).
Some 7.8 percent of households here are made up of unmarried partners compared with 5.9 percent statewide. An additional 0.9 percent of Northwest Marin households describe themselves as lesbian and 0.7 percent describe themselves as gay men, City-Data.com reports.
In 2007, the estimated median price of a home in Northwest Marin was $838,246 compared to $532,300 statewide. I wonder how much prices have dropped since then — probably not enough to help the 10.6 percent of residents with incomes below the poverty level.
Nothwithstanding how hard it is on the one in 10 Northwest Marin residents with incomes that low, statewide the percentage of people with incomes below the poverty level was 40 percent higher in July 2007 — before the recession hit.
One Response to " Flying over Northwest Marin "
Trackbacks & Pingbacks: